Mobile, Alabama has never been a city on my "to visit" list, but sometimes life presents you with an opportunity, so you just go with the flow and enjoy the ride. Such an opportunity presented itself when I recently flew from Savannah to Atlanta to Mobile. I had one specific goal: obtain my Global Entry status. Global Entry is a U.S. Customs and Border Protection program that allows expedited clearance for pre-approved, low-risk travelers upon arrival in the United States.
After getting hung up in a two-hour customs line when returning from Mexico in January 2023, I vowed never to experience that again! To obtain a Global Entry card, you pay $100 and book an in-person interview with a Customs officer. Due to high demand and unprecedented numbers of applications, it is sometimes taking up to 18 months to obtain an interview. That's how I landed in Mobile, AL where I found an interview slot open at 9:15 a.m. on April 12, 2023. To make the best of the trip, I booked a room at the historic Battle House Hotel and spent an afternoon meandering around Mobile as a tourist and travel blogger.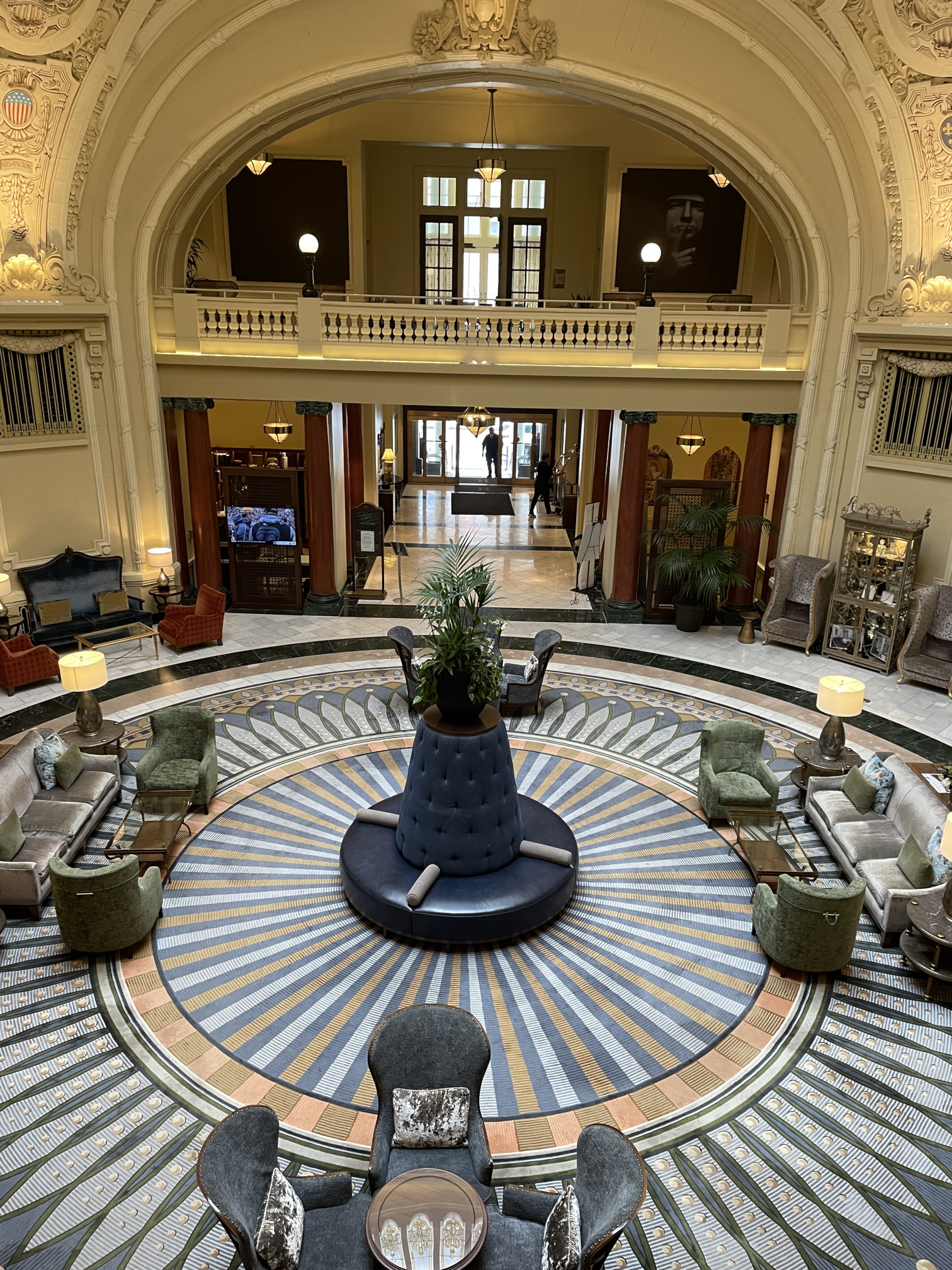 When I checked into the hotel, I was impressed by the elegance and majesty of this mammoth structure. Plus, the ultra-friendly staff and customer service blew me away. Every single employee I met greeted me with a smile and asked if I needed any assistance. I'm talking impeccable service. Built in 1852, The Battle House Hotel is named for its owners, James, John and Samuel Battle, and was constructed atop the site of a former military headquarters set up by Andrew Jackson during the War of 1812. The hotel met its demise in 1905 when a fire completely destroyed the structure. It reopened in 1908 with design by Frank M. Andrews. In the early 1970s, it would close and lock its doors again due to growth of malls and downtown Mobile's decline. But the "Grande Dame" would be restored to its splendor and re-opened in 2007. If you book a stay here, ask for a personal tour by Hotel Historian George Moore. He's been with the hotel since 1958 and he's a rich source for the most endearing stories about the hotel's history. Mr. George and I had a wonderful interview and he told me such cool stories.
Since I only had three hours of daylight to tour the historic district, I set off on foot and created my own walking tour of Dauphin Street, named for the son of King Louis XIV. Mobile has a colorful architectural history, and I saw everything from Greek Revival, Italianate, Federal, Egyptian Revival to French and Italian Renaissance.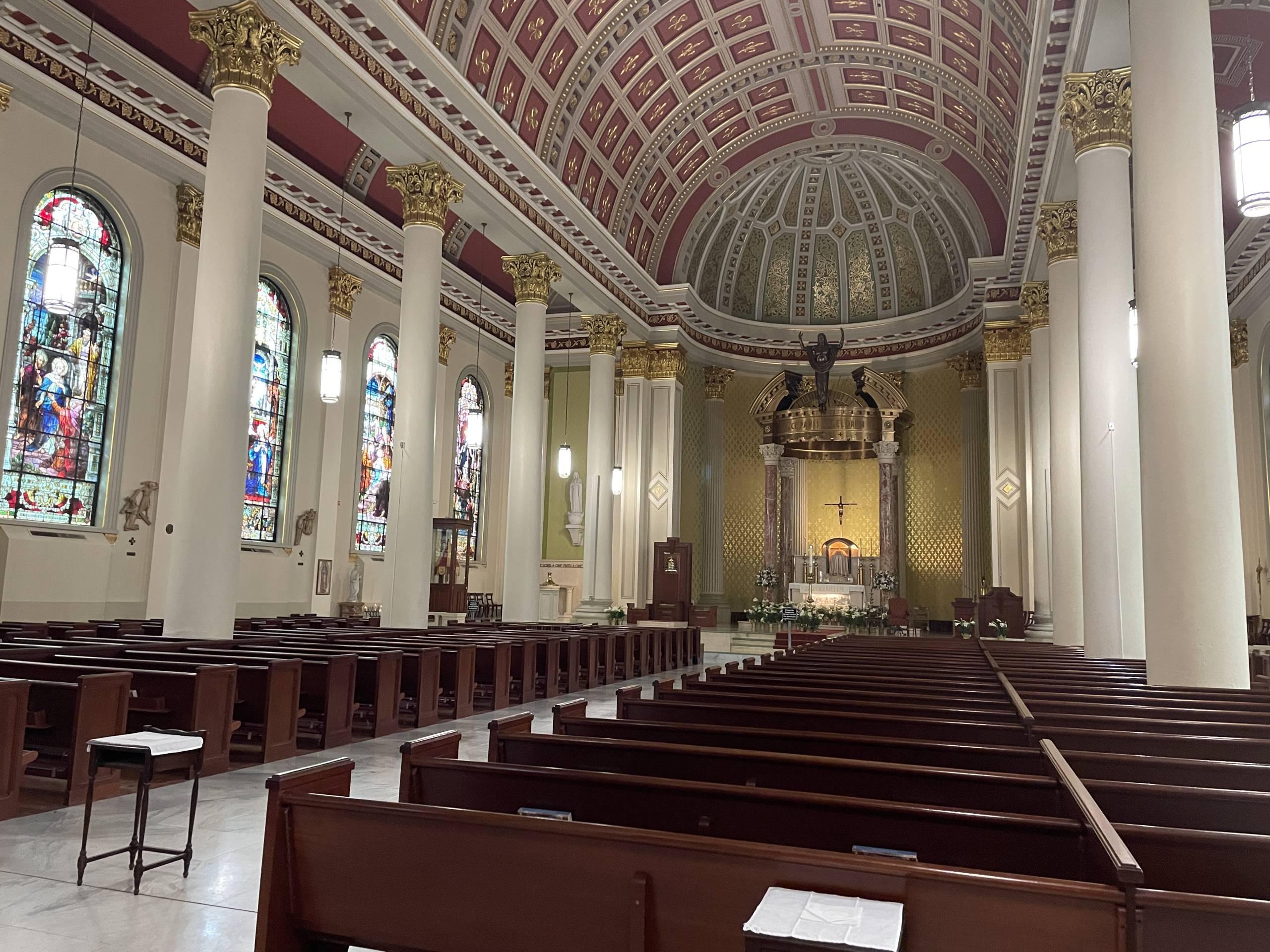 I visited the Cathedral-Basilica of the Immaculate Conception first. It was erected in 1703 as the first Catholic Parish on the Gulf coast. I could have spent hours looking at the details and history of each stained glass window. Again, I found every person in Mobile to be ultra friendly and at each stop, I would ask shop owners what was a "must-see store" or "must-visit eatery" in Mobile since I only had limited time. Here's the places that again and again bubbled to the top:
Eat at:
Chuck's Fish. 551 Dauphin Street. A restaurant with a diverse menu, including Gulf seafood, hand-cut steaks, pizza, and award-winning sushi! You'll have to visit more than a few times to really get an idea of what they have to offer!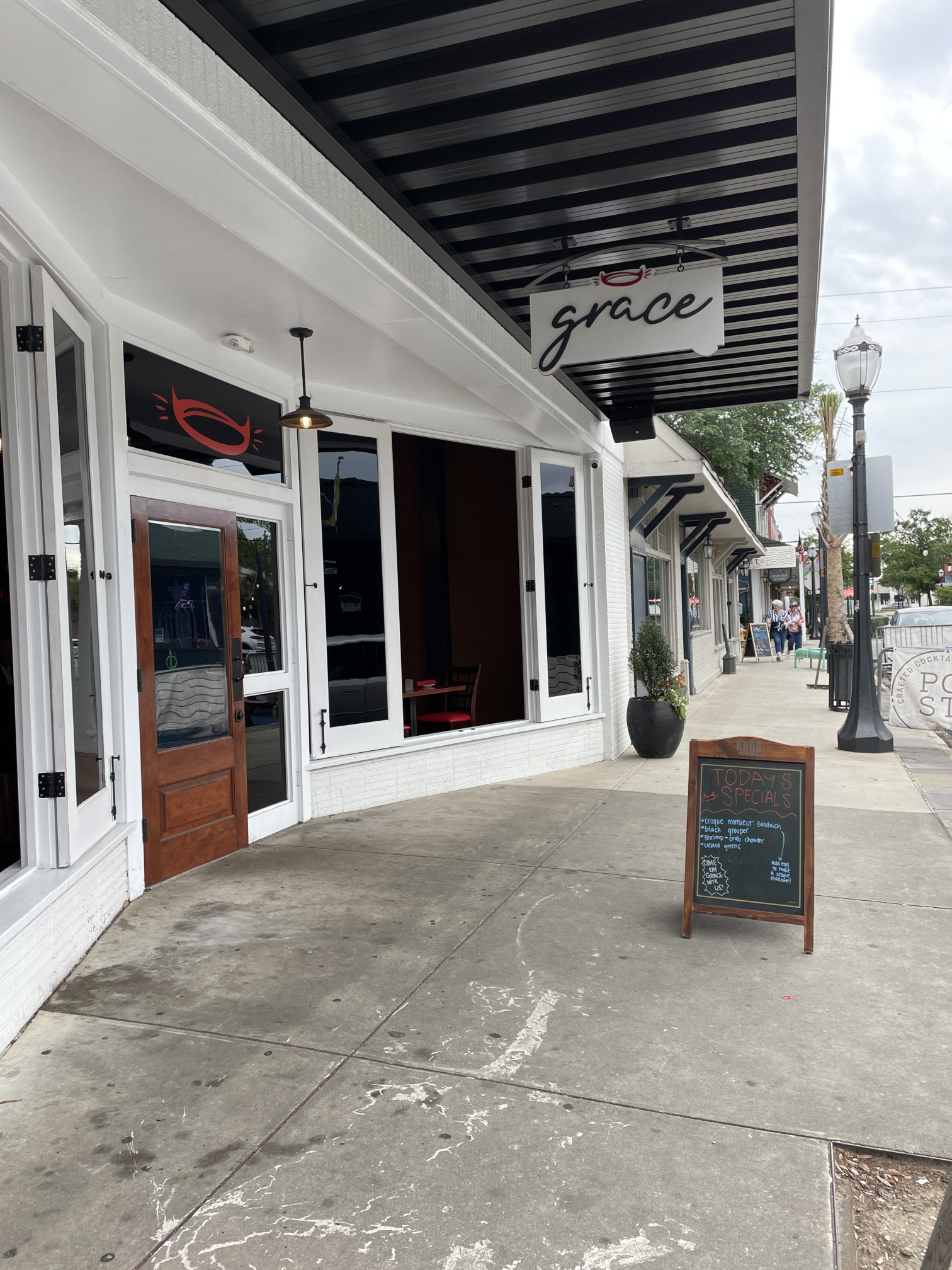 Grace. 555 Dauphin Street. A relative newcomer to the Mobile, AL scene, Grace provides a neat rooftop dining experience! Big TVs with sports, and a lively atmosphere complimented by a fine selection of cocktails and small plates. This would be a great place to visit during a clear, starry night sky.
The Haberdasher. 113 Dauphin Street. The Haberdasher is known for its craft cocktails, extensive whiskey selection, and cozy, rustic-chic atmosphere. The bar features a rotating menu of creative and classic cocktails, as well as beer and wine options. The Haberdasher also serves small plates and snacks to accompany the drinks, and often hosts live music events.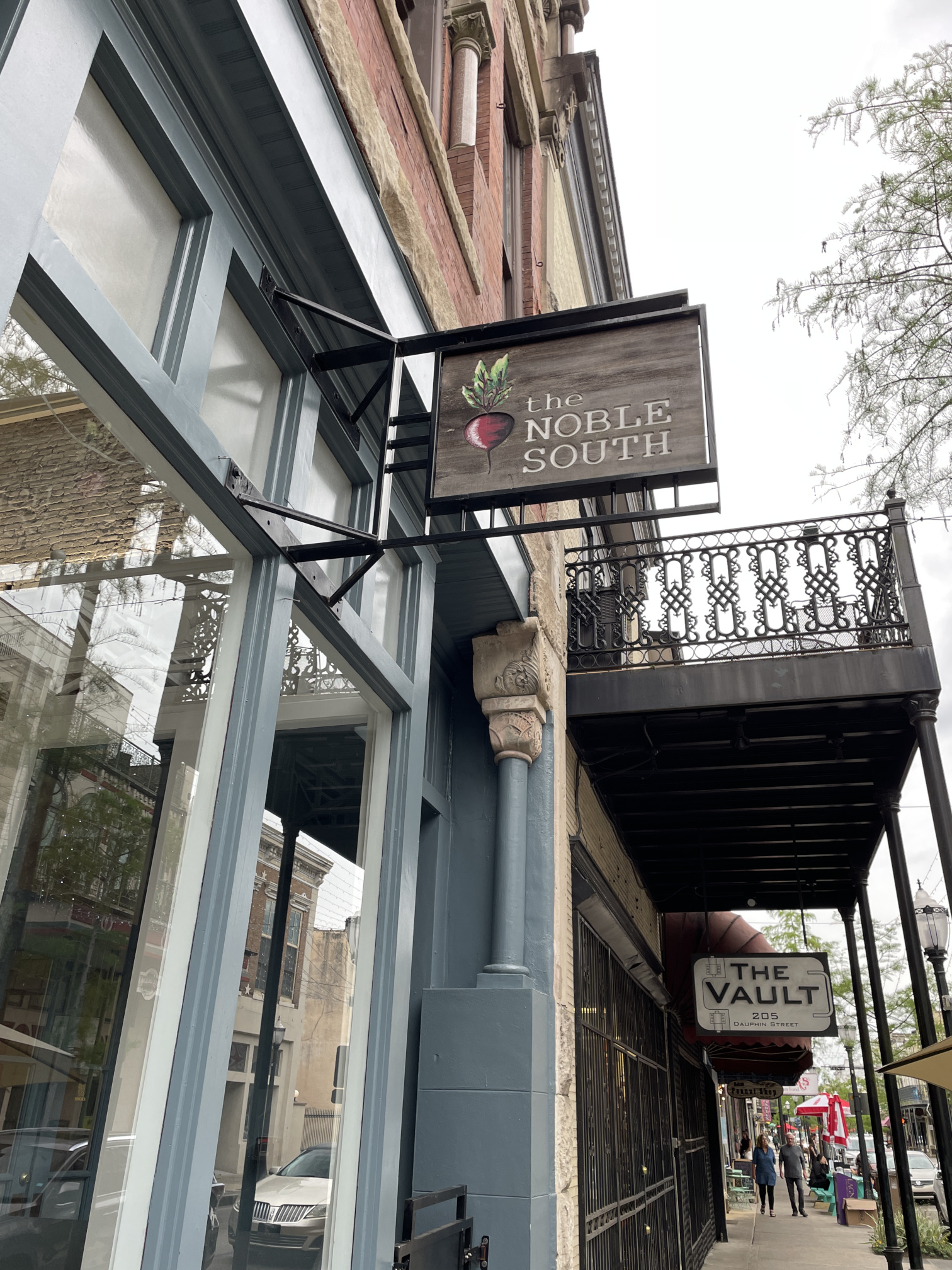 The Noble South. 203 Dauphin Street. The Noble South serves Southern-style cuisine made with locally sourced ingredients, and offers a great atmosphere with a spacious high ceiling, good wine and reasonable parking nearby.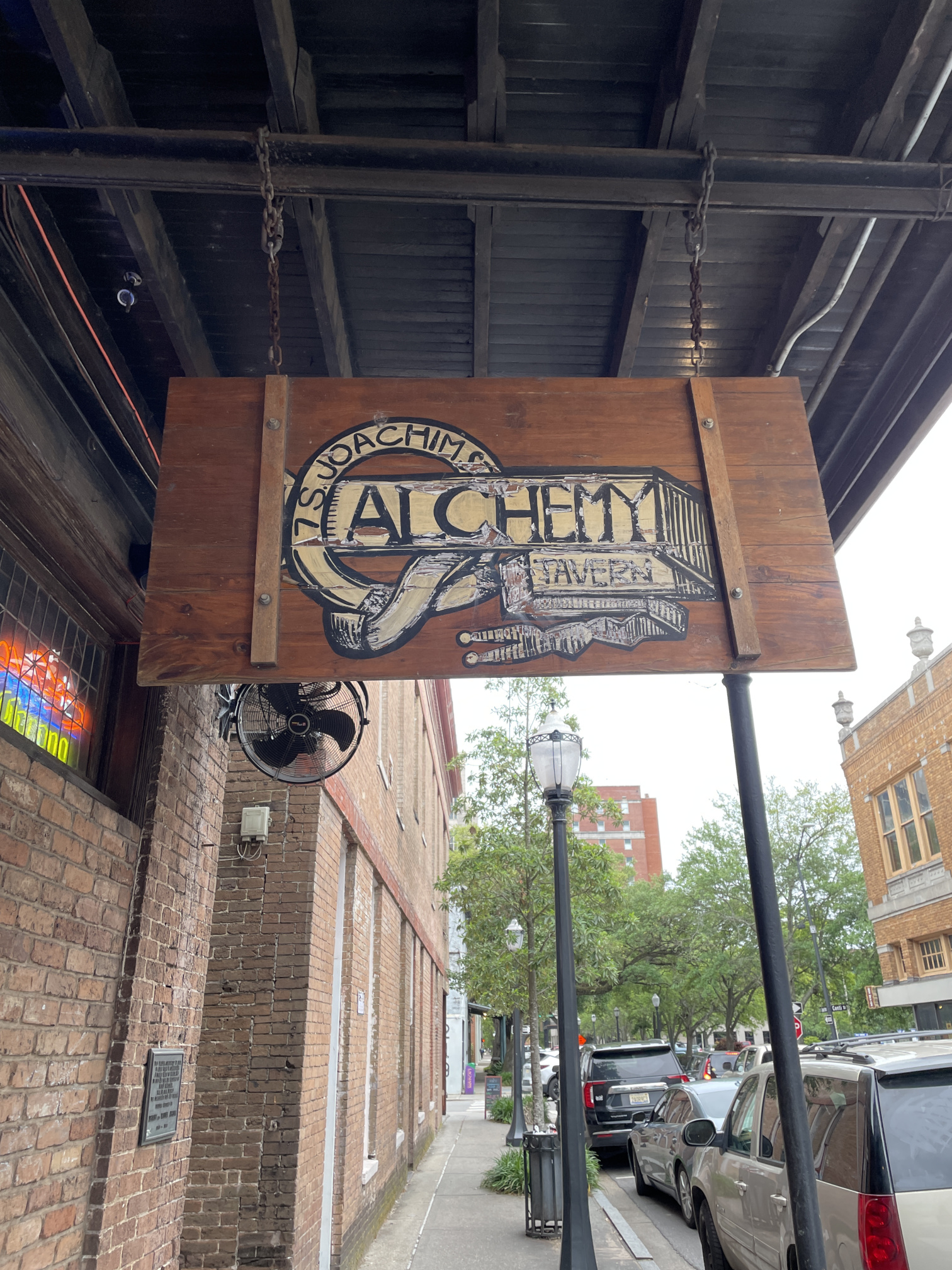 Alchemy Tavern. 7 S Joachim Street. A watering hole where locals hang, this is a great spot for a diverse range of recreational activities (a pool table, cornhole, karaoke, video games) and a laid-back, but classy, atmosphere.
Shop at:
Urban Emporium. 260 Dauphin Street. This unique shopping experience has stores within a store and offers different "stalls" where local vendors sell their wares and one-of-a-kind designs.
Mariposa Boutique. 558 St. Francis Street.  Owner Holli Davies toured me around her new boutique and it has both new and consignment clothing. With clothes geared to women in their 20s, 30s and 40s, she even had many items I would wear as a 59-year-old. The coolest thing I saw was these faux leather shorts she had in stock. I'm telling you… I wanted those babies, but I knew that a 29-year-old could rock them in a better way than I ever could.  🙂
Mobile's tourism offerings also include museums and maritime adventures – and while in the area, be sure to ask about any festivals! This trip could have easily been a dull, all-business trip. But hey, if you're going to be flying into a city anyway, why not check out the local culture? Every city has its unique personality and traits if you care enough to look! It was wonderful to get a glimpse of this "hidden gem" of the South.