Everything is grand about the Grand Hotel at Mackinac Island: The view of Lake Huron. The grounds. The pool, dotted with cabanas. The main dining room. The stately porch that stretches the length of the 388-room hotel.
Opened in 1887, the Grand Hotel is indeed one of the grand dames of historic hotels in the United States and lives up to its reputation. I recently attended a Wellness Retreat at the hotel and was overwhelmed by the sheer size and beauty of its front porch. The vast veranda sets the stage for what you will encounter inside as you step back in time to designer Dorothy Draper's world of interior design. Draper's choice of bright colors and patterns don't make sense at all, but in this hotel, they work because they are whimsical and magical. Later, in the hotel's history, interior designer Carleton Varney continued injecting Draper's vision into the hotel rooms and common spaces. The result: black and white checkered patterns mixed with bright greens, reds, pinks and tons of geraniums found in carpeting design and other fabrics.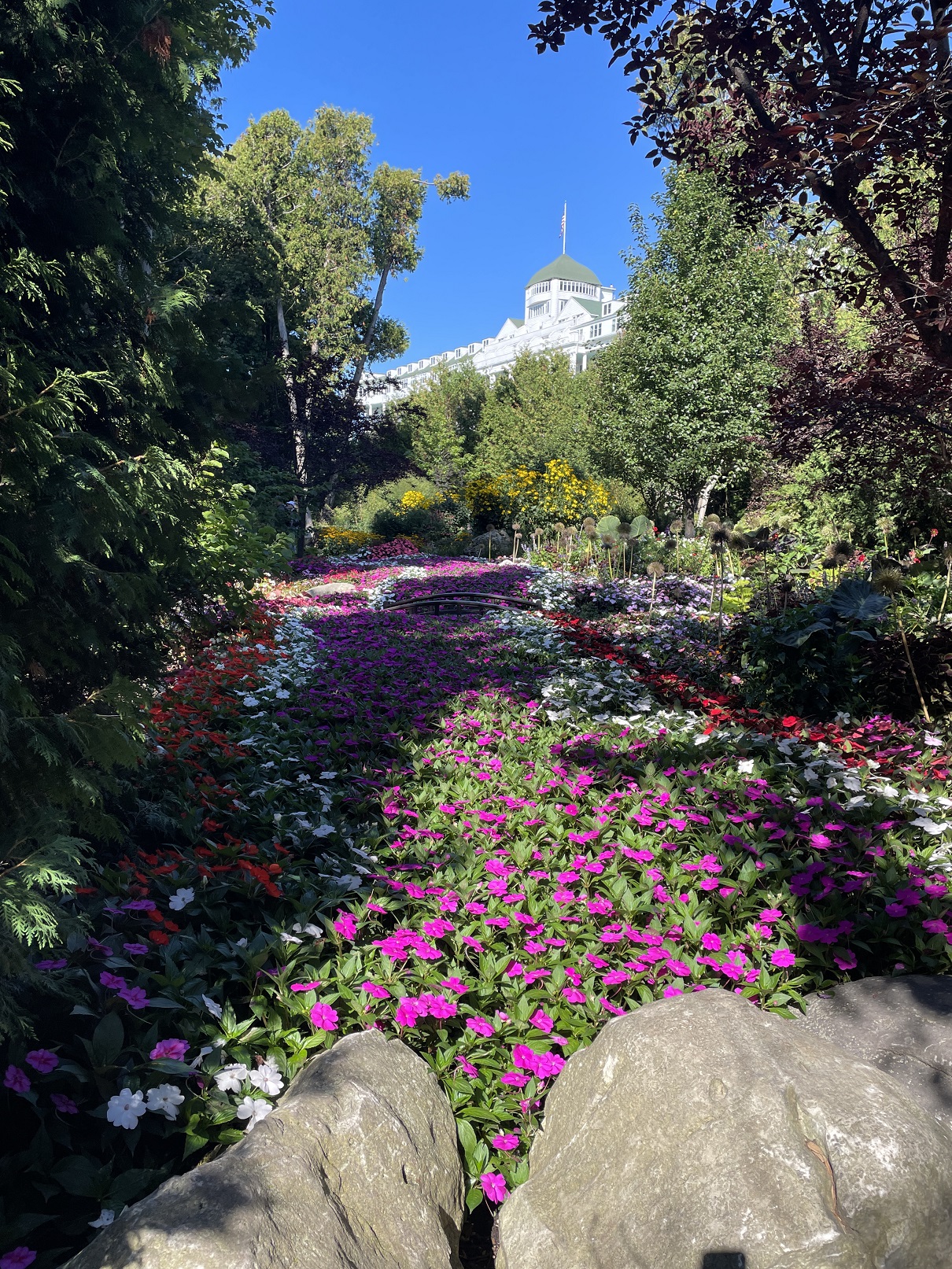 Speaking of geraniums, I went on a hotel garden group tour with groundskeeper Ethan who is one of a crew of seven employees who take care of the property. I learned there are 1600 geraniums planted on the front porch. In addition, 20,000 tulips are planted on the east and west beds at the entrance of the hotel to create a stellar arrival for guests. Near the pool, there is also The Secret Garden which is also worth a visit because it's artistically designed like a river of flowing flowers.
Dining options are abundant.  You can choose for the picturesque Main Dining Room, casual Gate House, Fort Mackinac Tea Room, The Woods Restaurant, Mackinac Island Pizza Company, Grand Coffee and Provisions, Esther Williams Pool Bar, The Jockey Club and Sadie's Ice Cream Parlor. For cocktails and entertainment, don't miss out on the spectacular panoramic view of the Straits of Mackinac from high above at the Cupola Bar.