On a recent summer day, I was surprised to find a famous luxury leather retail store tucked away on Woodcock Hill, a country lane in St Albans, Hertfordshire, England. From the picturesque, rural road I was driving on, it first appeared to be a simple barn. But hidden from the initial view from the dirt road view sits a designer mecca. The beautiful Osprey London outlet store sits next to its sister Osprey Home store, and in between lies the Saddlery Cafe, serving freshly brewed coffee, teas and light lunches.
World-renowned for its handcrafted leather belts and bags, Osprey London has morphed into a lifestyle/retail company. Its mainstay products have been gorgeous leather goods for men and women, yet the company has expanded to offer scarves, sunglasses, silk ties, clothing, home fragrance collection, decorative home wares, precious jewelry and unique gifts. Osprey Home showcases not only branded leather accessories, clothing and gift collections but also collaborations with artists such as contemporary British artist Grayson Perry alongside furniture, lighting, art and sculpture. These are all personally sourced by Graeme and Alex on their travels from companies which share the same values, using traditional techniques and natural materials to create special products that stand out from the crowd. All can be enjoyed over drinks, lunch, afternoon tea or dinner in the brand's popular Saddlery Cafe.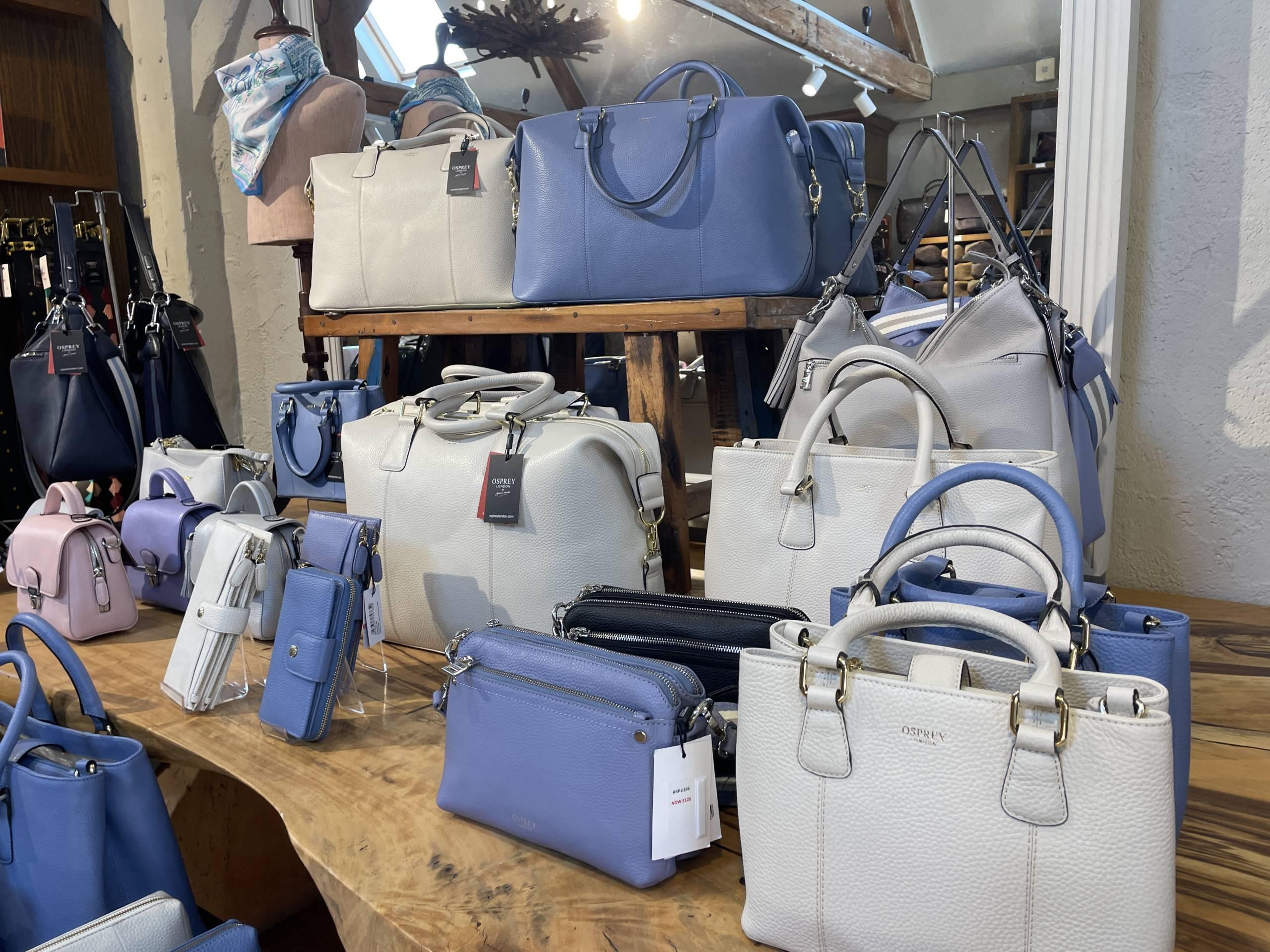 The genius behind the brand is designer and founder Graeme Ellisdon. He started the company in 1980 at age 25 with just £500 in his pocket to launch his leather goods store. His first product was a hand stitched belt that he produced in a Hertfordshire, England hayloft he had rented for £2 a week.
Using only the best leather from around the world, Osprey London has earned a worldwide reputation as an affordable luxury leather brand that winks British style. Today, highly skilled craftsmen in the UK, Italy, Spain, Portugal and India work with founder Graeme to ensure each product retains its rigorous quality to be worthy of the Osprey London name.
Paying homage to the luxury leather company's history, I purchased a classic and timeless wide 5 cm. leather belt in a rich Cognac.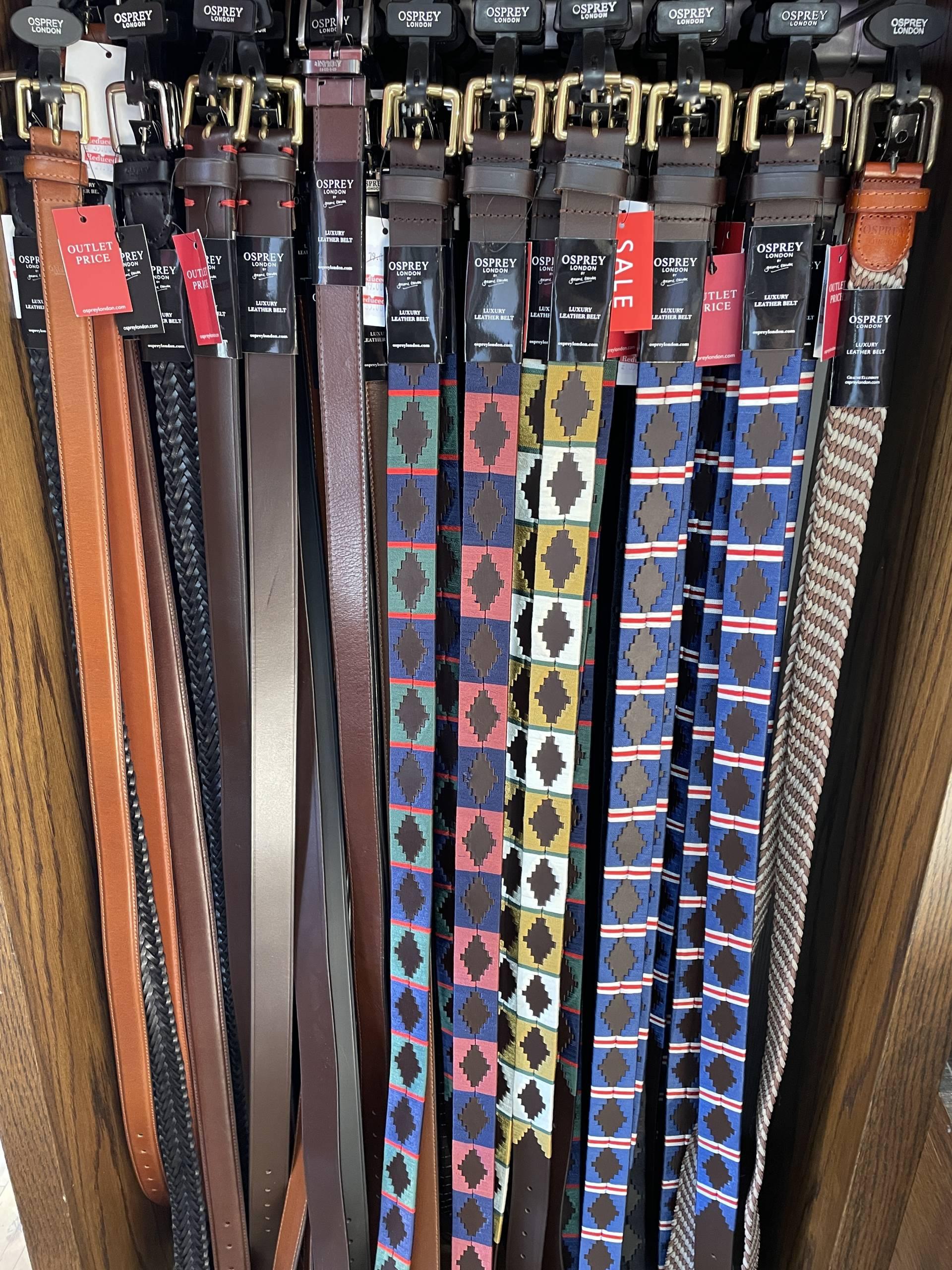 I caught up with Osprey London Outlets Manager Lauren Reynolds and she gave me the low-down on what's popular, what's hot and must-haves for your wardrobe:
Q: What's the quintessential Osprey London leather piece all women should own?
Perfect for all occasions, Osprey London's must-have bag is The Ruby. The dressy 3-in-1 bag is perfect for all occasions. Use it as a clutch, a shoulder bag and as a cross-body! Not only is it the perfect sized bag, it also comes in a plethora of colors, which makes it the perfect bag to match with any outfit!
Q: What's the hottest pocketbook this season?
It's got to be our Vagabond Italian Suede Hobo. Reasons to love it: it's a statement saddlery-inspired hobo, expertly crafted in Italian Suede and contrasting Saddle leather. It's the must have bag of the season and is a favorite among influencers who just can't get enough of the authentic feel!
Q: What is your fave Osprey London leather product all men should have in their wardrobe?
For men, I'd suggest a classic men's holdall, and the Carter leather holdall is deliberately understated and lets the quality of the leather do all the talking, handcrafted in premium chestnut brown Saddle leather.
You can find Osprey London here:
Woodcock Hill, Coopers Green Lane
St Albans, Hertforshire, AL4 9HJ
Phone number: 01707 264332