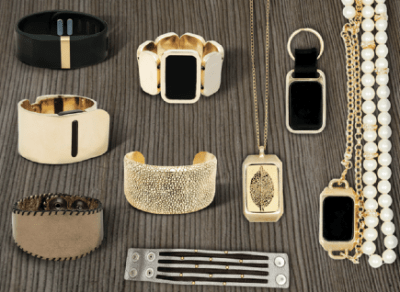 There's a cool "Cuff" that's hitting the market this fall and every woman who worries about safety should own one of these bracelets or necklaces.  Here's the lowdown…
The inventor is Deepa Sood, a former VP of product development at Restoration Hardware, who had an "aha" moment one night while out with her husband and friends.   "We had a dinner party during which, over many glasses of Pinot, my husband and some of his friends were geeking out over the Nike + Fuelband and some design friends and I were trying to stack the band in between our other jewelry to make it fit more into our looks. It was a battle of the bands! The next morning, I found myself wondering—why does all this cool functionality have to be relegated to one aesthetic vision."
The result?  Bracelets, necklaces and key chains in the Cuff line ($35 to $150)  that serve as a personal alert system.  CuffLinc, the brand's innovative technology, is a small device embedded into the accessories that connects to your smartphone and sends alerts to your trusted network when you sense you are in a vulnerable or threatening situation.
Here's how it works: Download the app and designate family and friends to receive alerts in case you sense danger. A subtle touch of the wrist or neck will ping everyone in your network and identify your location via GPS, and it won't stop until someone responds.
High tech.  Beautiful.  Stylish.  Smart.  Who can resist?  The Cuff collection is available for preorder now, with delivery schedule this fall.
If you enjoyed it, please share it!
If you enjoyed it, please share it!
If you enjoyed it, please share it!
     But for years spiritually, I was unable to experience any of these life items as I continued to suffer from  a sexual assault invading and destroying me at the age of 28.
     I lived in a prison of constant negative chatter! It closed me down….for a long time.  It changed me into a person I did not recognize.
     Just reach your hand out and take mine and we'll get there….together.
     Somehow, someday, somewhere, you WILL find a new way of living.  You have to hold on to this belief and keep the faith; for it's truly all we have.
If you enjoyed it, please share it!
     I want to achieve extraordinary goals — not just ho-hum, common, run-of-the-mill ones.   I want to have a seismic impact on how our world views violence against women and change how sexual assault victims recover…so no woman has to endure what I experienced after my sexual assault….fear, shame, trauma, hurt, despair, post traumatic stress, anxiety, depression.
     Let's face it…there aren't that many middle-aged, petite women from rural Georgia going around the country talking about rape, speaking about this taboo subject matter, convinced her message can save lives.
To achieve these extraordinary goals, Chris Brogan tells me I have to define what success means to me.
    This is what success looks like:
It's as simple as that.    
If you enjoyed it, please share it!
Did you remember to breathe today?  For at least 20 years, my post traumatic stress affected the way I breathed.  I often "gasped" when startled.  I breathed with shallowness and even held my breath at times when I felt I was in danger.  The result:  lack of oxygen to my brain and constantly remaining in a state of tension, rigidity, and anxiety. 
Several years ago, I attended my first yoga class.  During that session on the mat, I remember thinking, "There is not enough action here! Not enough movement. I can't stand this!"  My mind and body had become so accustomed to panic mode that I knew no other kind of living and had forgotten how to relax.  But over the past eighteen months, I have retrained my breath through yoga and can now breathe DEEPLY, mindfully inhaling and exhaling.  Here are the benefits of yoga and deep breathing:
        

A boost in immunity!

 

I have not gotten sick in a long time because as I have breathed better and circulated better, all of my organs have functioned at an optimum level.

        

Better sleep!

 

My brain was constantly racing before, but now I use deep breathing to allow my brain to slow down.

 

I am less exhausted and have much more energy.

        

A Happier State!

 

Studies show that yoga can help with depression and it has definitely helped with mine.

 

I have a sunnier disposition.

        

Better toned from head to toe!

 

Yoga is strength training and you use your body weight to go from pose to pose.
 A yogi once said, "A long breath equals a long life."  Do you get it?  I finally do!
If you enjoyed it, please share it!
If you have not seen any of the news pertaining to this important initiative, here are some of my favorite messages I've seen during April.
Give me some feedback on these!  Have you seen any of these?  Do you think these awareness campaigns are working?  If not, what ideas do you have to create awareness?
If you enjoyed it, please share it!
Friday, July 12th was declared Malala Day by the United Nations.  It is in honor of Malala Yousafzai, the Pakistani teenager shot in the head by the Taliban for campaigning for girls' education.
If you enjoyed it, please share it!
If you enjoyed it, please share it!
If no one intervenes, what will likely happen?

Is someone else better placed to respond?

What would be my purpose in responding?
Are there risks to myself?

Are there risks to others (e.g. potential retaliation against person being "helped")?

Is there a low-risk option?

How could I reduce risks?

Is there more information I can get to better assess the situation?
If you enjoyed it, please share it!